'Looking for Excitement, Adventure'
Choice of Mirage N37 is academic, retired professors say
As a neuro-psychologist Jack Kershner spent a career in academia, so it was natural that when he and his wife Barbara prepared to make the switch from sail to power, boat shopping took on the trappings of a research project. And who had more information than the many trawler owners they met while plying the ICW?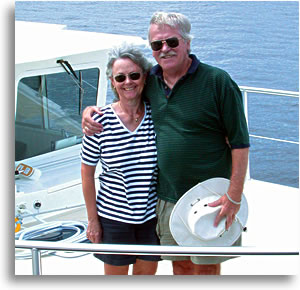 As devoted sailors, the couple had never considered a trawler until after retirement a few years ago, until after the kids were out of college. Sailing had been a big component of their lives together. It defined them-they were sailors. Now as they readied their Mirage N37 for the Bahamas, the Kershner's told the story about how they had come to own a trawler yacht.
"Whenever we had an opportunity to take a sabbatical," Jack Kershner said, "our approach was that we would buy a boat during the sabbatical and sail it for the entire year living on the boat and doing academic work at the same time to satisfy the requirements of being on a sabbatical. We would take the boat down to the Bahamas…one was a 41 Morgan Out Island and the second was a Gulfstar."
For nearly 25 years, the Kershners chartered sailboats during shorter breaks from career and childrearing. They bareboated with friends out of St. Lucia and cruised the Windward Islands. They sailed the Leeward Islands almost as often. For the Bahamas, they chartered out of South Florida. "We did a lot of long-range boating, and I did a lot of crewing with a buddy of mine who was fascinated with deepwater, so I've done from Tortola to Bermuda to Bar Harbor, Maine," Jack said.
"Once we retired, we were looking for that perfect boat in perpetuity, to sail off forever into the sunset. Of all the boats that we had had, the Morgan 41 Out Island seemed to offer the best compromise and any boat is always a compromise between the ideal and what you actually have to cope with. We thought there were fewer compromises with the Out Island than any other style of boat, and only confining that to sailboats because this is where we thought we would stay. That was all of our experience…
"We bought a property in Virginia. Moved out of Canada when we retired and bought this 41-foot Morgan, the last one that Charley Morgan built in 1984-tall rig. It didn't give us what we wanted. We weren't satisfied. There were several problems. No. 1 was traveling on the ICW, having to cope with 133 bascule bridges…Our plan was to stay on the Chesapeake in the summer time and take the boat south in the winter, at least as far as the Bahamas-classic strategy…But we found it was so tedious to negotiate the bridges…Plus, we started to calculate the amount of time we were under sail. It would not be an overestimation to say that were under motor 98 percent of the time."
Barbara: "We were always looking at boats even though we had one…and then we started talking to friends who were thinking of shifting from sail to trawlers. Then we started looking at trawlers in the Chesapeake and South Florida. That's how we developed an idea of what we wanted. We looked at everything from fast trawlers-I should say from picnic boats-to fast trawlers to Grand Banks We looked at a lot of boats. Nothing was what we wanted. We were in a looking mode when we went to the Annapolis boat show and saw the N37."
Jack: "Five years. We wanted something that was five years or newer with moderate usage."
Barbara: "We set high standards for what we would want in a used boat. There were certain layouts that we wanted. Or didn't want. Some of the trawlers made the mistake of doing the aft cabin in a double bunk and a single. Perfectly nice trawler, a 40-footer or so-and they ruined it with the master aft and a V-berth in the front. We really didn't want to do that. We had done that with the sailboats."
Jack: "We were looking for something different and for me it was also a case of being retired and having had a considerable amount of water experience but never having had experience with a large trawler type. For me it was the challenge of a different kind of boat, to have an opportunity to do that while we were still healthy and looking for excitement and adventure.
"Plus, being on the Chesapeake we had the objective of doing a lot of exploring on the bay itself, which we hadn't had a chance to do even though we had been there for five years now. We just didn't have the right boat and the right circumstances. The N37's shallow draft will allow us to do that in considerable comfort, with the 2 ˝-, 3-foot draft…All the way up to Washington, D.C. and all the various tributaries."
(Mirage Manufacturing asked Jack and Barbara how they arrived at the decision buy at boat with twin engines amidst the continuing debate on the merits of twins versus a single engine.)
Jack: "We arrived at our position (for twin engines) on our own, through all of the research that we did. We spoke with many brokers, boatbuilders and so on. I can't recall a single instance where someone tried to sell us on one as opposed to the other. It was always presented as an option. The pros and cons are obvious. Twin engines, twice as much maintenance and possibly more fuel usage
Barbara: "There's also the argument that if one engine stops, the other will, too, because the problem is dirty fuel. But we talked to enough people so that we are very grateful for that second engine, because there are other ways that engines stop."
Jack: "I think we got more useful information from boat owners…"
Barbara: "Real people."
Jack: "Particularly when going up and down the ICW. We met more people with our sailboat, had more opportunity to speak with owners of trawlers. We spoke with more owners of trawlers than boat brokers. I think most of our thinking was influenced by people who owned trawlers, most of whom had gone from sailboats to trawlers at some point in time. That's where we found that the "feeling on the street" was that two engines were better than one."