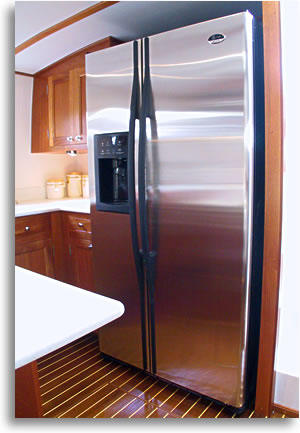 Summary: Competitors outfit their boats with appliances originally designed for the cramped quarters and barebones electrical systems on sailboats. These half-sized stoves and refrigerators are pricey but don't cook or cool any better than what you are used to at home. Mirage trawlers feature a standard 14-cubic-foot GE refrigerator and a galley that can be upgraded to include radiant glass-top stove and convection- microwave -- the kind of gear that you would expect on a 60-foot motoryacht.
Kitchen appliances are excellent
You can easily find a boat that costs $750,000 equipped with a tiny refrigerator and a tiny oven. Maybe it's a 12-volt refrigerator. Call us simpleminded, but household appliances nowadays are so reliable, so efficient and so handsome, why would we want to drive up the price of the boat with "marine" gear that costs more but doesn't work as well or last as long. Fact is, our competitors have to use this stuff because their boats can't fit a full-size refrigerator/freezer, even some of those in the 40-to-50-foot range.
Mirage trawlers, endowed as they are with broad beam, have ample room not only for an oversized fridge but other home comforts. The Great Harbours feature a standard-size stacked washer dryer behind a cabinet in the accommodations. The Navigator's cavernous bosun's locker will accommodate a combo-unit washer/dryer, and her engine room will fit the same off-the-shelf washer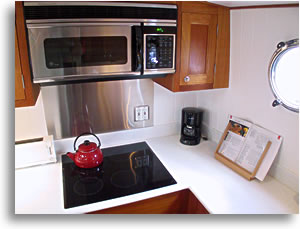 and dryer you have in your basement. There are places on either boat to put an off-the-shelf, top-loading freezer.
Back in the galley, we like to install convection microwave ovens because they can be powered, without having to start the generator, by our standard 2500-watt inverter. Combine this with an electric or propane cook-top and a wrap-around counter, and you've got the "professional galley" others advertise but don't deliver